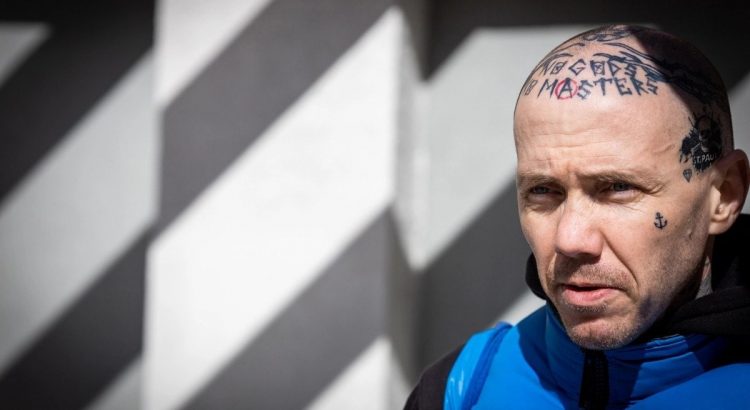 Mikita Jemialjanau was transferred to the correctional facility in Vokovyssk where he was regularly sent to punishment cell on manufactured pretext, including communication with Siarhei Ramanau.
Emelyanov Nikita Vladimirovich
IK-11, ul. Rokossovskogo 118, Volkovyssk, Volkovysski r-n, Grodnenskaya obl., 231900, BELARUS
Pavel Bialanau, the guitarist of the Deviation band, who had been charged with insulting the prеsident by the "Fuck Luka" tattoo was released due to the expiration of the period of limitation for the institution of criminal proceedings.
Upon arrival in correctional facility IK-20, Ihar Alinevich was put in the punishment cell for a month. Then he was transferred to secure housing unit and the facility administration started the process of transferring him to prison. In August, the anarchist was sent to the prison in Zhodino.
ST-8, Zhodino,
222163, ul. Sovetskaya, 22A
Igor Vladimirovich Olinevich
Siarhei Ramanau was also regularly put in a punishment cell. He was deprived of calls and care packages from family. Reportedly, he lost 10 kilograms. At the end of August, it became known that he was put in a secure housing unit.
IK-11, ul. Rokossovskogo 118, Volkovyssk, Volkovysski r-n, Grodnenskaya obl., 231900, BELARUS
Romanov Sergey Aleksandrovich
Dzmitry Dubouski was put in a punishment cell on the day of his birthday, 29 July. 30 days later, he's still staying there.
IK-3, Vitebskaya oblast, Vitebski rayon, Vitba, 211300
Dmitry Nikolayevich Dubovsky
At the end of the June, the court ruled to transfer Mikalai Dziadok to prison. He'll spend the rest of his sentence in prison in Grodno. Since the 3rd of August he's been staying in a punishment cell. He is generally kept in solitary confinement.
Dedok Nikolay Aleksandrovich
Turma-1, ul. Kirova 1, Grodno, 230023, Belarus
On the 5th of July, the court in Minsk sentenced Aleh Audzejenka to three years of home confinement. The anarchist was detained on the 25th of February 2022 on administrative charges but later he was charged with organising activities violating public order). During the search, the police found several anarchist flags and literature at his place.
Anarchist sentenced under the "Pramen" case were transferred to correctional facilities. You can support them by sending letters to the new addresses:
Evgeny Aleksandrovich Rubashko
IK-2. ulica Sikorskogo 1
213800, Bobruisk
Belarus
Artem Dmitriyevich Solovey
IK-17, Shklov,
213004, 1-ya Zavodskaya ulica, 8
Belarus

Artem Sergeyevich Solovey
IK-15, Slavgorodskoe shosse 183,
Veino, Mogilev, 213105
Belarus
Aleksandr Andreevich Belov
IK-22, Brestskaya oblast, Ivatsevichi,
225295, stantsiya Diomanovo, a/ya 20
Belarus
They also were included in the list of "Citizens involved in extremist activity". This document was formed and published by the cops allegedly to strengthen security and prevent the recurrence of extremist acts. It includes those who were convicted in criminal cases of "extremist nature." At the moment, the list includes 469 people.
While serving the sentence, as well as within five years after release, a person on the list will not be able to engage in educational and/or publishing activities, as well as hold public office and perform military service. The financial transactions of such people will be subject to control.
Ihar Bantser was detained again on the 4th of August and brought to Minsk. The police drew up 18 administrative offences reports. At the moment, he served 30 days for two counts and is awaiting trials for the rest.
On the 9th of August, antifascist Hanna Pyshnik was sentenced to 3 years of imprisonment. She was accused of facilitating extremist activity by sending videos of Russian helicopters to one of the protest Telegram channels. She has a 9-year-old daughter and a grandma who need support
Pyshnik (Chimpoyesh) Anna Gennadyevna
SIZO-3, ul. Knizhnaya 1A, Gomel, 246003, Belarus

It became known that the verdict of the so-called "international criminal group" case will be announced on the 6th of September at 15:00 in the Minsk City Court.
10 people are defendants in the case: Aliaksandr Frantskevich, AkihiraKhanada-Hajeuski, Aliaksei Halauko, Pavel Shpetny, Aliaksandr Kazlianka, Andrei Marach, Mikita Dranets, Daniil Chul, Marfa Rabkova, and Andrei Chapiuk. They are charged with 10 articles of the Criminal Code for the activities in 2016-2020. Some of the anarchists face up to 20 years in prison.
Source: ABC Belarus