We make a big call so, for solidarity and support of our comrade that has been beaten by Neo-nazis group outside of the Antinomia squat in Corfu / Greece. The fascists beat him in his face and he ended up in the hospital with a broken jaw. The cost for this surgery and the healing process is estimated for 3.000 euros.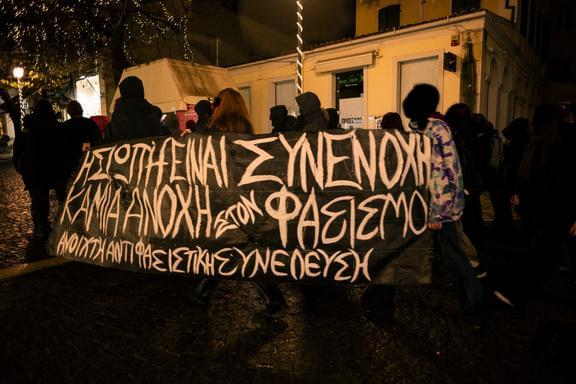 Image above : [ Silence is complicity, zero tolerance to fascism ]
[ The announcement of -Open Antifascist Assembly- ]
On 5/12 an impulsive gathering-demonstration developed due to the murderous attack against the 16year old Roma boy, named Kostas Fragkoulis who was shot in the head by a cop. The next day a video was brought to our attention, posted by a fascist account "autonomous_kerkuras" (meaning in greek: autonomous [group] of Corfu) on Instagram, whose account was shot down a few hours later. In the video, the block of the demonstration is shown while passing by the Saroko square, and the person that recorded the video was saying "you will remember us tomorrow you cunts, you will see us tomorrow".
On 6/12 a massive protest of 180-200 people took place as 14 years were completed since Alexis Grigoropoulos was murdered by the police in the center of Athens, in Exarcheia. The protest concluded at the old psychiatrist hospital and two banners were hung in the outside area. The same night a person passing by the area observed that the banners were not there anymore and posters of the squat were ripped. A swastika symbol was carved on the squat's door, and on the door of the self-organised sports team of Traverso near the Jewish synagogue.
On 8/12 while the squat was getting prepared for the self-organized weekly bar, 3 people entered the squat. They were identified due to their fascist discourse and action and they were immediately asked to leave. A group of people scouted the area to defend the squat and the people who compose it, to make sure that the fascists have left for good. Ultimately, these people came across our comrades and attacked them. During this attack, 6 more people of their team showed up that they were in standby mode to attack, around the squat area. The presence of the 3 at the beginning and another 6 subsequently, doesn't seem to be random but targeted and is also reminiscent of ambush practices. During the attack, one of our comrades was hit with a helmet and ended up in the hospital with a fracture in the lower jaw and immediate surgical operation was required. It is worth mentioning that a comrade of ours in her attempt to protect the beaten person fell on him and protected him with her body. However, this didn't stop the hits against them. While the attack was escalating, many threats were heard by the fascists such as "we will slaughter you", "we will kill you", and "we will stab you". On top of that, after multiple commands from one specific person on their team, they stole the mobile phone of one of our comrades. After the attack ended, we were informed that 3 of them were prosecuted by the cops. Some of them are known to be students at the university and trained by a specific school of martial arts. It should be stressed that the phenomenon of cultivating fascist thinking and action is related to these schools of martial arts, and gyms and their relation with cops, mafia, and mob.
We consider that these recent incidents do not concern exclusively and specifically the local society of Corfu. This is a generalised effort of the fascists to regroup in the country of Greece. There is an escalation of their actions as they are trying to gain ground in order to spread out their ideologies. At the same time, their purpose is very clear since they move from threatening to attacking political squats and the people organised around them. We should not forget: the fascist attack on a student in his own school in Corfu and 4 years ago the racist murder of the Albanian worker Petrit Zifle from the neo-Νazi D. Kouris, member of the neo-Νazi political party "Chrysi Avgi" (meaning in greek: Golden Dawn).
We strongly declare that we will never stop fighting against these types of political forms in every way, by any means, keeping alive the antifascist action. There is no chance that we will leave our comrades undefendable or stop protecting our own political spaces.
Τhese parastatal fascist attacks against us, attacks from the state itself (evacuations of political squats, prosecutions, and charges of comrades) will not remain unanswered at all times! We will not make the slightest retreat in our fights or in our values and this from now on is a one-way street process.
For these reasons:
We give priority to participation and contribution in collective procedures and actions
We make a big call so, for solidarity and support of our comrade, as for practical support of the antifascist action
No matter our role in this society, students, and workers, our main concern is to point out the fascists/nationalists and fight for their social isolation and complete extinction.
We cannot turn a blind eye, nor can we conceal this kind of actions! Silence is complicity, while tolerance towards these behaviours and ideologies allows the behaviors themselves to be normalized and become consolidated.
Nothing can erase the flame that is burning in our hearts. No threat can crush our dreams. No one can affect our relations of companionship and solidarity.
-Open Antifascist Assembly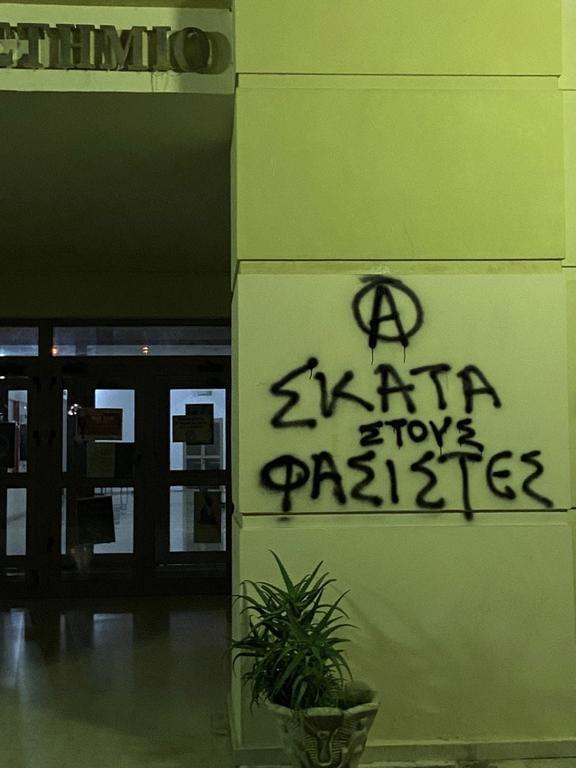 Slogan on the wall : [ Shits to the fascists ]